Church of st. john
the evangelist
SUNDAY WORSHIP INFO:
Have you ever thought about how the one thing that the church does regularly as part of our mission that no other organization does is gather for communal prayer? When we gather (on the phone or on Zoom or in person or on Facebook) as the church to pray, what we are doing is central to who we are as Christ-followers. It is important stuff!
Sunday
· 9AM—Live Morning Prayer (RITE 1) with brief sermon
o Scriptures here: https://www.lectionarypage.net/YearA_RCL/Pentecost/AProp13_RCL.html
o Book of Common Prayer page 37 or found here: https://www.bcponline.org/DailyOffice/mp1.html
o Zoom info here:
​
Wear your pjs, grab your Book of Common Prayer and a cup of coffee, and come PRAY together as the church. Come as you are. Come, oh Beloved. To worship the God who is still in control and who offers deep peace. Come and be friends with Jesus together.
​
If you are not currently on our Zoom invite list and would like to be added please email the church at stjohnsessington@gmail.com. Please include your name.
___________________________________________________________________________________________________________________
St. John's is a small family oriented church. We were founded in 1902 and have been a foundation in the community since then.
All are welcome to attend our services, Sunday school and events that are held throughout the year.
Sunday Services: 7:30am & 11am
(Coffee Hour follows)
Children's Sunday School: 11am
Upcoming Events:
Neighbor-to-Neighbor Food Pantry & Community Dinner:
Third Tues. each month from 5-7pm.
Due to COVID-19 our dinners are on hold.
​
​
​
Dear Church,
As we stretch into this (toasty) last month of summer, into the green growing season of ordinary time in the church liturgical calendar, I want to encourage you to keep being gentle to yourselves and to each other. It is easy during hot months (let alone during a global pandemic!) to be hard on yourself or hard on others. (Have you ever noticed that gun violence or domestic abuse spikes in numbers during the hot summer months? Or have you ever noticed how kids throw bigger tantrums after being in the hot sun?) We can get irritated and cranky quick, and often that can also lead to us being so much harder on others and on ourselves. We feel like we can't get to all the things we wanted to get to, or we haven't been the person we have wanted to be, and we can forget the only truth we know we can lean on: We are beloved children of God. YOU are a beloved child of God! We are recipients of the "marvelous loving-kindness" of God that our upcoming Psalm this Sunday speaks of. "Marvelous loving-kindness" is such a wonderful gift to receive. And it is a gift we are then called to offer one another. What would it look like if you offered others the "marvelous loving-kindness" of God?
My challenge this weekend is to look and find someone who needs to receive the "marvelous loving-kindness" of God, and then to offer it to that person. Find the person who is hurting, who is wounded, who is angry, who is sick, who is hungry, who is feeling most unloved, and then tangibly offer "marvelous loving-kindness." Don't know who to offer it to? Look in your heart and think of the person that you would least want to give it to. That might be a prompt from the Holy Spirit that that person is hurting more than you know. Be God's heart and hands. Be God's voice of hope and love. Meet the needs of those around you. This, my dear ones, is how we are the church!
You are loved. You are not alone. Keep wearing a mask for one another and washing your hands, and know that God is with you in whatever you are going through.
Blessings,
Rev. Jessie
​
Your Support
Our church is able to provide incredible programs, events and outreach because of our congregation and their support. by supporting your church you are directly impacting the future of our community and its spiritual health. Click the button below to give to St. John's
​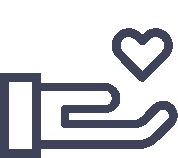 "Whoever is generous to the poor lends to the lord, and he will repay him for his deed."